BridgingApps, a program of Easter Seals Greater Houston was awarded a grant from CVS Health Foundation to support tobacco cessation efforts helping key populations—individuals with disabilities, veterans, caregivers, and persons with behavioral health and substance abuse/recovery concerns– quit smoking for good.
Are you ready to quit smoking? You CAN be tobacco free! You don't have to quit smoking alone. We have a guided program in multiple formats to support you.
The program addresses the three parts of smoking addiction:
The Physical Addiction
The Mental Addiction
The Social Addiction
The Freedom From Smoking program:
Prepares you for your quit day.
Guides you with an action plan.
Supports maintenance for smoke-free living.
The Freedom From Smoking program is available in 3 different formats: online, in-person 7 week group clinic, and self-help booklet. Leave tobacco behind. Your journey to a smoke-free life begins here. Contact Cathy via phone 346-330-3875 or email Cathy for more information.
To complement the American Lung Association's Freedom from Smoking Program, BridgingApps has compiled an excellent list of apps that can help you relax without smoking!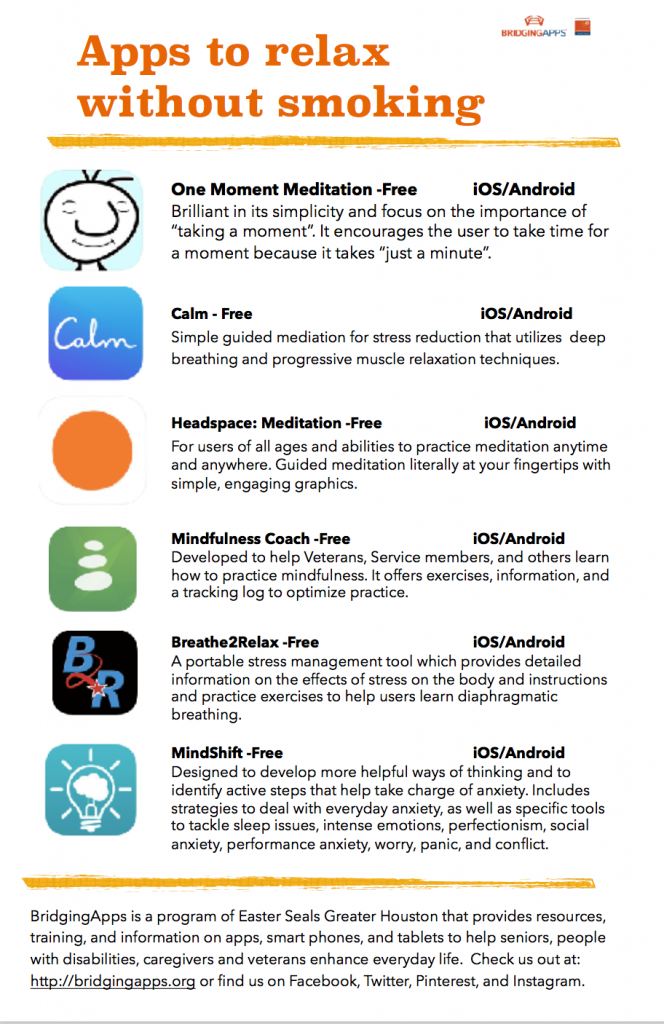 Click the link below to see the list:
https://search.bridgingapps.org/lists/ca777e21-a8af-46e2-a548-c634aa1db2df