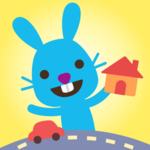 BridgingApps just published the following BridgingApps Reviewed App on the site:
Sago Mini Town is a fun and engaging app for preschool and elementary children. The app gives the child the opportunity to build a town with animated story tiles. Each tile has different items or characters that interact with the other tiles around it. Each time the app is played, new events occur.
We used the app with young elementary children with developmental delays. The children enjoyed creating their own town and watching the many animations as the town grew. They moved the pieces around and discarded tiles as they created. The app held their attention and gave them many opportunities to express themselves.
This app does not have any verbal or written words during the play. All verbalizations must be provided by the therapist or the child. This allows the app to be used for a variety of lessons including teaching following directions, using describing words and action words and learning basic concepts.
Sago Mini Town is highly recommended for young elementary children as a teaching tool and as reinforcement for lessons taught in therapy. The app is so entertaining that the child may not realize that they are learning and using new vocabulary and language skills during their play.
Click on the link below for full review:
https://search.bridgingapps.org/apps/0bc73552-6686-463d-85b4-1c57a56e279a