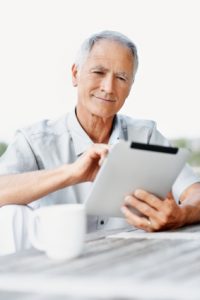 BridgingApps believes the use of technology, the ability to identify apps, combined with information and training will be a powerful tool to improve the lives of older adults and seniors. Access to information, mobile technology and apps enable seniors to communicate, connect with the world, and ultimately improve their levels of independence.
If you are an older adult, family member or caregiver, check out some of our previous blogs on the topic.
Seniors | Getting Started
Seniors | When the Latest and Greatest Isn't So Great
Seniors | Next Steps
Also, our Resources for Seniors Site features how-to videos on topics such as Creating an Email Account, How to Set An Alarm on Your iPad, How to Change An Email Password, How to FaceTime and more.
Whether focusing on apps for accessing social media, help with everyday tasks, or ways to stay engaged and in touch with loved ones, the goal is to identify apps that can enhance the lives of seniors.

BridgingApps has recently updated its list of Apps for Seniors and Older Adults, so be sure to check it out and share! Click the link below to see the full list:
https://search.bridgingapps.org/lists/882853a4-aba3-4714-bb81-9402eef76aa5