Read Time 5 Minutes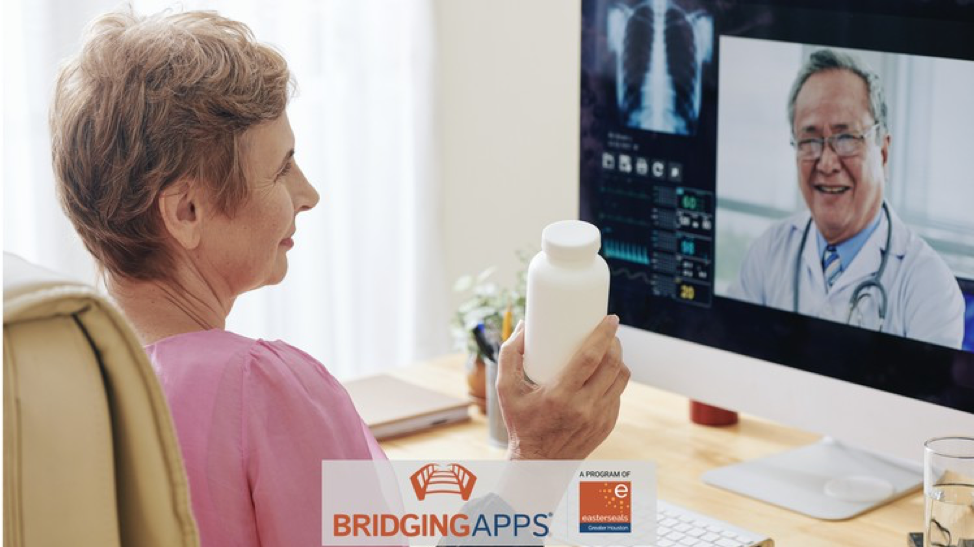 Some people can't get enough of digital technology. Some people learn it out of necessity. And some people use it only when there is absolutely no alternative.
There's a world of media surrounding the perpetually wired nerd, who goes into withdrawal after twenty minutes sans digital devices. But the opposite extreme—the technophobe who is actively afraid of the digital world—gets less attention. While many people live without broadband internet for lack of funds or digital literacy, technophobes may or may not have the option of easily accessing the virtual world. They simply don't trust it, for reasons ranging from conspiracy theories to fear of looking foolish.
House Calls Via Zoom?
Nothing kicks technophobia into high gear like the prospect of a really sensitive video call. It's chilling to imagine someone tapping into your conversations with an oncologist or psychiatrist. And how can doctors make an accurate diagnosis anyway, without being able to look you over in real life?
Let's clarify a few "telehealth" facts up front:
On the doctor's end, your confidential medical information is as safe as anything recorded during an in-person appointment. You are, however, responsible for finding a secure connection (and a spot away from potential eavesdroppers) on your own end.
There are limits to what can be done virtually: if your doctor recommends a procedure such as bloodwork or biopsy, a follow-up in-person appointment will be necessary.
Tests you don't have to come in for include basic vitals such as temperature, weight, blood pressure, oxygen saturation, and glucose levels, which can be checked at home and reported to the doctor during virtual appointments. (Keep in mind that, besides requiring medical-quality equipment, reporting your own vitals is "on the honor system." Accuracy is very important, and it can be tempting to fudge "just a little" on the more embarrassing items—a problem mental-health and behavioral specialists have long dealt with during in-person appointments.)
Amy Fuchs, BridgingApps Program Manager, on personal experience with telehealth: It's like a phone conversation with the added benefit of seeing the person on the other end. My daughter and I used it to meet with her pediatrician both times that she had COVID, so the doctor was able to see her demeanor and talk about how she was feeling without us having to leave the house and expose others. I have also used telehealth for consultations regarding upcoming procedures, saving an extra visit to the doctor's office for preparation and check-in instructions.
Now, the "how-tos" of telehealth appointments.
Your First Virtual Checkup
The following tips are based on BridgingApps' new "Digital House Calls" video course, which at time of writing has enrolled 221 students and growing. (We highly recommend taking the course: it requires no investment beyond an hour of time, and is presented in easy-to-follow documentary style. See link in "Resources.")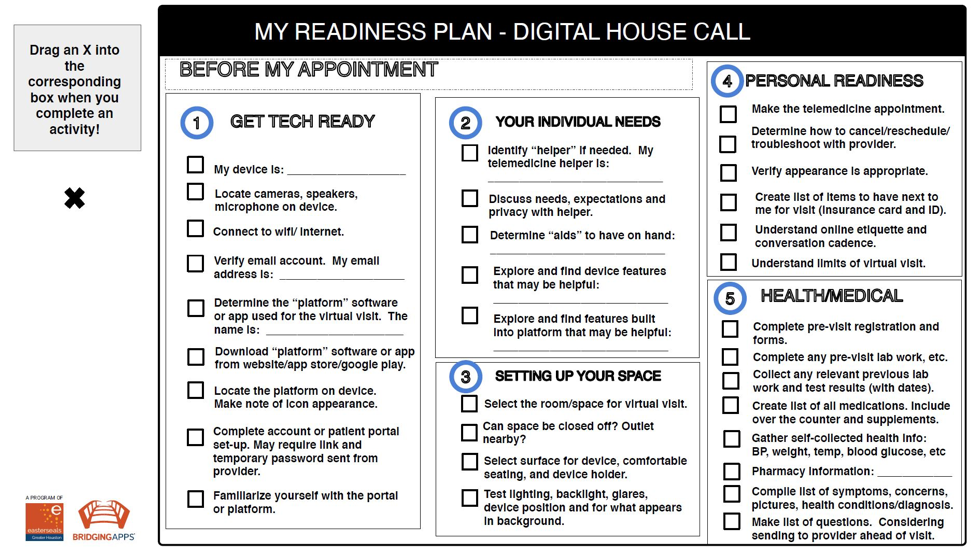 Complete paperwork online in advance.
Use your private home network if at all possible—and use a private spot in your home for your virtual setup. (Even if you don't care what family members overhear, background movement and noise are a distraction to medical providers.)
Be especially careful that your camera image is clear and properly lit. Backlighting that turns your image into a shadow is worse than annoying during medical appointments, where doctors need a good view to assess your appearance.
Gather prescription bottles, blood pressure cuffs, and other relevant items in advance. Have them within arm's reach when logging into your appointment.
Unless you're really too sick to get out of bed, dress as you would for an in-person appointment: appearing in pajamas is the lazy way out, and could confuse the doctor's assessment by making you look sicker than you are.
But keep a robe (or, if possible, a real hospital gown) within reach, in case the doctor needs to see your more intimate parts.
Even if you aren't asked to undress, you may have to show more of yourself than is obvious at first. Wear short sleeves, and loose pants or a skirt, that can easily be rolled up.
Switch off all unnecessary digital functions, including background television and smartphone "you've got email" alerts.
Especially if you have limited experience with virtual meetings—or with the app the doctor's office uses—enter the waiting room about 20 minutes early to troubleshoot any login or connection issues. If you want to be really safe, ask in advance whether you can switch to a phone appointment in case of technical difficulties.
Even under the best circumstances, the doctor won't be seeing you quite as well as in person: so be prepared to describe your symptoms in extra detail. And don't hesitate to back up your verbal descriptions with exaggerated body language. (If your written-communications skills are good, consider putting important information in the Chat window as well.)
Video calls bring out the "rush" mode in some people. Take time to go slowly and cover your concerns thoroughly. If the doctor seems rushed, don't be afraid to request that they slow down or repeat something: chances are the hurry isn't deliberate, and in any case a lack of clarity will cause you both worse problems in the long run.
Before logging off, review follow-up instructions in detail. Make sure you're clear on what to do next.
Finally, expect that as with any new experience, there will be embarrassing moments and glitches. Don't let it panic you: the doctor's office has seen it all before, and they'll walk you through any problems. As with any new experience, the first telehealth appointment is always the most uncomfortable. You'll get comfortable with it quickly enough, and you'll soon forget how you ever got along without it.
Resources: