February 28 through March 2 was the National Digital Inclusion Alliance's annual conference, Net Inclusion, held in San Antonio this year. BridgingApps was proud to send four of our team:
Amy Fuchs, Program Manager
Alejandra Gonzalez, Digital Navigator
Walter Prescher, Digital Navigator
Marjorie Reichard, Project Manager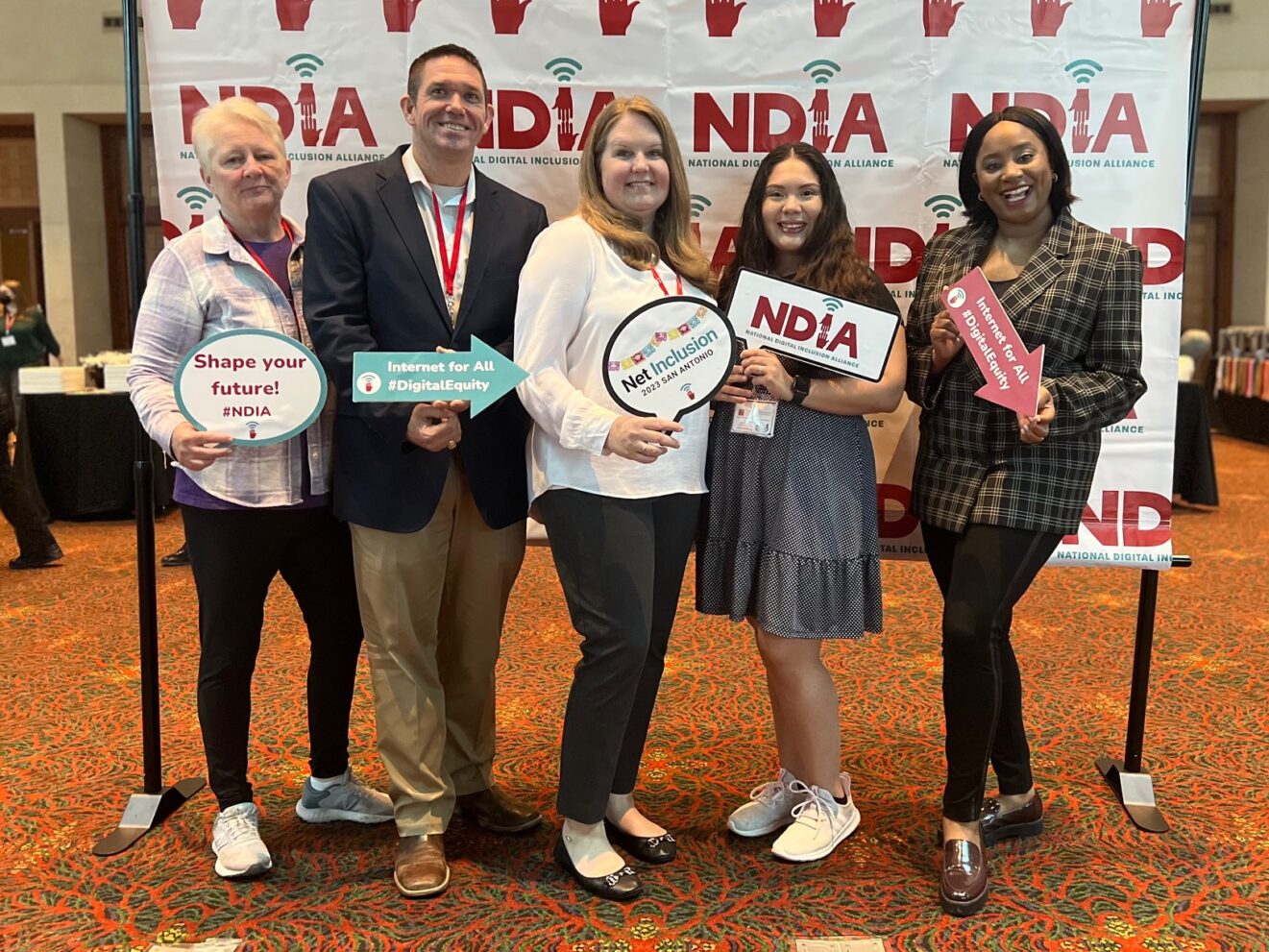 For today's article, they report on their favorite moments from the conference.
Favorite Experiences
Alejandra Gonzalez: I loved seeing the various groups that are serving their communities and pushing for digital equity. Seeing how their work is progressing was inspiring, and being able to meet other Google grantees and share our own experiences was fantastic!
Amy Fuchs: I was a panelist in the "Assistive Technology and Digital Equity" session, and took some vision and hearing devices as well as an iPad where people could try out apps after the panel ended. Ale [Alejandra Gonzalez] was there and helped explain and demonstrate the devices. It was a big hit! Participants were really eager to learn how to work with people with disabilities.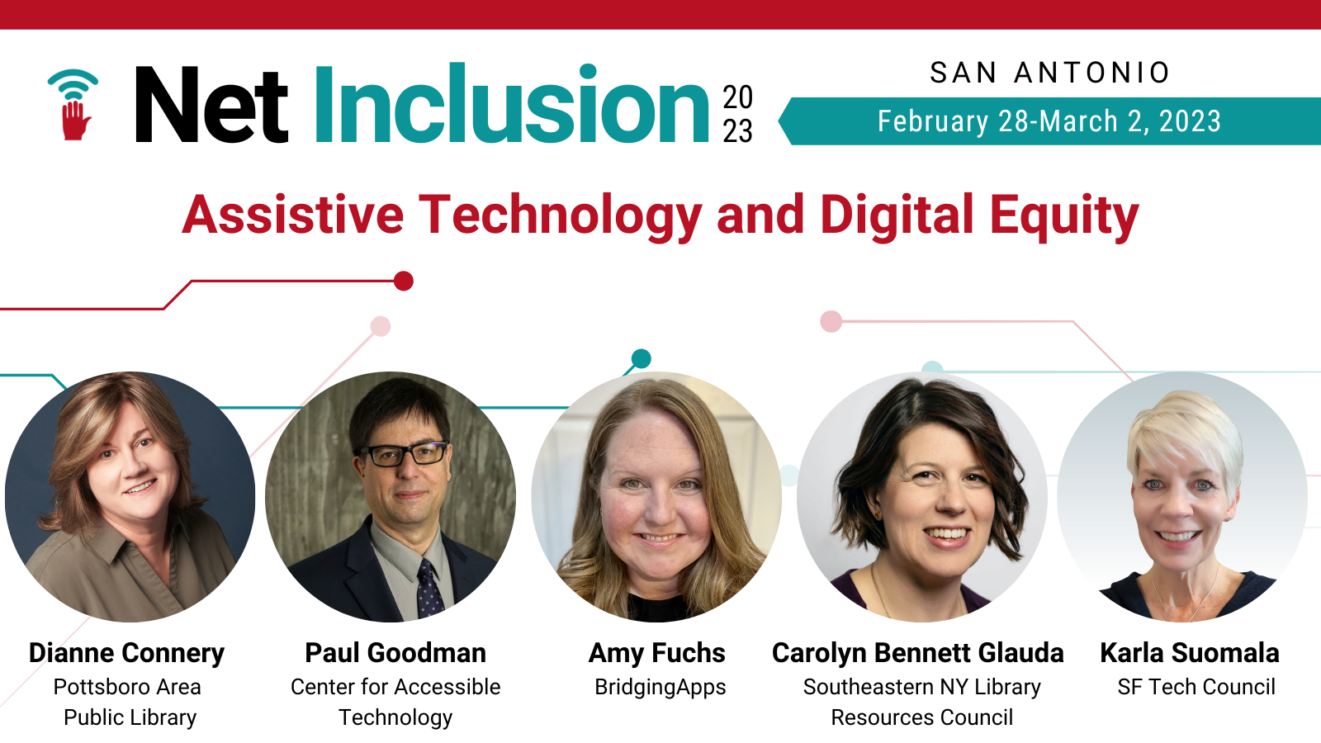 Walter Prescher: The best part for me was the sense of community. Everyone was extremely supportive, willing to share, actively brainstorming new ideas to make digital equity a reality.
Marjorie Reichard: The best part was meeting people of all walks of life, coming together for a common cause. I also liked:
The pre-conference, where it was good to meet other people walking down the same road we are.
The "lightning rounds," where each organization could spend three minutes highlighting their programs.
The "affinity tables" lunch. I really enjoyed meeting people whose work focused on data. I sat with two men from Washington who discussed which states would probably make the "final mile" in digital equity, and which internet service providers don't cover all the areas they say they cover.
Favorite Workshops
Alejandra Gonzalez: I attended:
The Public Policy Workshop on how to get policies changed, especially by speaking to legislators about what we want changed [and why].
An Affordable Connectivity Program (ACP) workshop that went into detail on how to apply, and on the program's future. They mentioned the nonprofit EducationSuperHighway as a great resource for training and data. The panel's most notable tip on ACP enrollment was to get a Digital Navigator's help creating a formula for passwords and usernames, as these are easily forgotten without memory aids.
A Digital Inclusion and Older Adults workshop, where we discussed how social isolation is a huge health risk for seniors, and how this can be mitigated by connecting digitally.
A workshop on Teaching Security and Privacy Inclusively. The most notable moments included an explanation of Older Adults Technology Services and its security curricula for seniors, plus advice on how to avoid financial scams. For warning people about being too trusting on the internet, the advice was: "Ask them, 'Would you do this [pay an unexpected bill with gift cards, give personal information to a stranger] in the 'real world'"?
Walter Prescher: I went to breakout sessions on:
Building Local Digital Inclusion Ecosystems (building community to make digital equity possible).
Digital Navigator Best Practices, on how to hire and work with a Digital Navigator. (Admittedly, the workshop description had led me to expect practical tips for Digital Navigators.)
Building Ongoing and Robust Partnerships with Native Nations. Topics included how to foster relationships with indigenous tribes; understanding their existence as political minorities [not the same thing as ethnic minorities]; and how to use inclusive language and otherwise avoid creating relational barriers.
Favorite Contacts
Walter Prescher: My favorite contact was Ka'iulani Namauu, the Civic Engagement Director for American Indians in Texas at the Spanish Colonial Missions.
Marjorie Reichard:
I sat at lunch with Ka'iulani Namauu, who is part Hawaiian, part Japanese, and part American Indian. She was such a positive woman, discussing how she integrated the different parts of herself, and she generously offered to help BridgingApps connect with the Alabama-Coushatta tribe.
And I really like Black Churches 4 Digital Equity [which has a web page about the Affordable Connectivity Program to recognize the Black role in establishing the ACP]. I hope to talk my own church into doing something like this.
Alejandra Gonzalez sums up the purpose and shared passion of Net Inclusion: "This conference was all about the three pillars of digital equity: access to broadband, access to a device, and digital skills training."
Founded in 2015, the National Digital Inclusion Alliance (NDIA) advocates and educates for digital equity, basing its goals on "Four Pillars": Practitioner Support; Policy; Awareness; and Data & Research.
Net Inclusion has been an annual NDIA event since 2016, when it opened in Kansas City. In 2024, it will be hosted in and from Chattanooga, Tennessee.