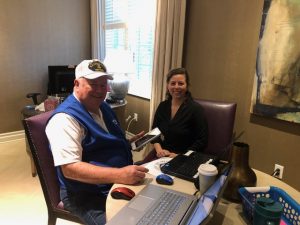 Forest Cloom is a CG vet RET who volunteers at the VA and Fisher house. He drives guests to and from appointments with a golf cart. Forest owns an iPhone and just welcomed a 1st generation iPad to his home after an Easter Seals Greater Houston FinTech and services presentation.
Forest is pretty comfortable and savvy with his iPhone. A goal he has with his new iPad is to access his VA profile through MyHealth E-Vet, explore more apps on the BridgingApps.org and App Search Tool site, and record a time-lapse of his wood working projects. He hand carves incredible wood pieces into plaques, clocks, and other decorative items and details them with wood burning techniques.
He also uses his windows Dell computer for his emails, photos, and contributing to the news letter of his American legion. He has a computer goal of transferring data from his older Dell to his newer Dell.