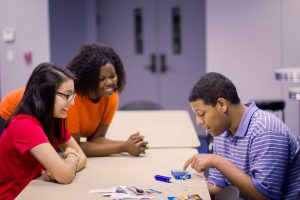 As of 2018, 95% of teens have access to a smartphone. This is true for different genders, races, ethnicities and socioeconomic backgrounds. Can a smartphone or other tech help with transition?
Absolutely! TexasYouth2Adult, an online tool to help Texas families with children who have special health care needs prepare to transition to adulthood, offers app ideas and reviews to help with many areas of transition.
Everyone needs to use calendars, reminders, organizers, schedules, planners and other tools to become more independent. This is especially true for those with special health care needs and disabilities who must learn to talk effectively with their health care team as they grow. Since teens today are rarely without their phones, they might be more likely to put an appointment in their phone calendar or reminders rather than on a paper calendar. Digital tools and apps can help promote learning self-care skills.
Need help tracking medicine? Try Pillboxie!  Do you lose post-it notes and scraps of paper with reminders? Check out Wunderlist. Looking to understand a medical procedure? Simply Sayin' – Medical Jargon for Families might help explain complicated stuff. Trying to juggle a bunch of doctor appointments? Learn about CareZone. Do you have questions about your Medicaid benefits? Download Your Texas Benefits now!
Are you interested in more app ideas to help you? Check out 3 of our most popular app lists!
Apps for Transition and Employment list
Transition and Independence: Apps for People with Down Syndrome