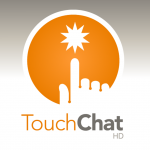 BridgingApps just published the following BridgingApps Reviewed App on the site:
Recently updated, the lite version of TouchChat is a great introduction to the AAC world of apps, but does not include audio playback or speech synthesis. The lite version is best used for trial purposes to see if the features may be helpful for a particular user.
TouchChat Lite gives an individual the ability to navigate through page sets. Page sets are linked pages, each of which is divided into a number of buttons. The buttons are programmed to have specific actions. For example, buttons may be programmed to navigate to a different page, change the volume, clear the display, etc. page sets that are included with TouchChat Lite: VocabPC, MultiChat-15, my QuickChats, Spelling, Wordpower, Wordpower with Phrases, iEssense, Pixon, Gateway and Talkabout. Each page set targets individuals with different communication needs.
Click on the link below for full review:
https://search.bridgingapps.org/apps/db261290-f595-bf0d-1068-5a2b8ea8be52