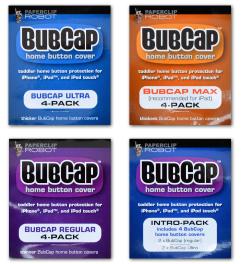 It is a common problem, you are working with your child using and iPad or iPod Touch/iPhone, you are in that key moment in an app where they are about to learn something, and boom, they reach over and hit the home button. All gone! They are crafty. We think we have found a very simple elegant solution to this problem; BubCaps by Paperclip Robot.

What is a BubCap?, good question. BubCaps were developed to prevent toddlers from switching apps. A BubCap is a small piece of flexible plastic that adheres over the home button on an iPod Touch/iPhone or an iPad. The way it works is that the plastic is flexible enough to allow an adult to press through the BubCap to activate the home button below. A child with less strength cannot activate the home button.
There are three versions of the BubCap:
Regular BubCap – Made for iPod Touch and iPhone
Ultra BubCap – Made for the iPad
Max BubCap – Made for stronger users
They are sold in four pack for around $6.00 on Amazon. There is a forth option and that is the Intro pack, it has 2 Regular BubCaps and 2 Ultra BubCaps. I would recommend the Intro pack to start.
If you know you have a strong child then you might want to consider just getting the Max BubCap from the start.
This device is meant to be left on so that means if you share your iPad it will be something you need to get use to using on a regular basis. Experiment.
I imagine this would be great for therapists and teacher who are using the iPad in a controlled manner.
Please lets us know your thoughts and experience.