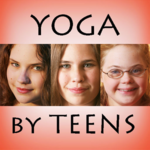 BridgingApps just published the following BridgingApps Reviewed App on the site:
Designed and taught by three teenage sisters, Yoga by Teens is an app that provides a calm, slow-paced, gentle yoga experience to users of all ages and abilities.
One of the teens guides students while the other two demonstrate various physical postures that are based on hatha yoga principles. They use classic yoga terminology followed by easy to understand explanations. With calm background music the setting is definitely supportive, encouraging and positive.
BridgingApps likes Yoga by Teens' peer approach to developing a yoga practice. Its use in a classroom environment or in a family home can be an important part of increasing physical activity and reducing sedentary behaviors. The payoff is reaching healthy goals of reducing stress and anxiety and increasing confidence while building flexibility, strength and balance.
Click on the link below for full review:
https://insignio.bridgingapps.org/apps/1717a261-6c5f-4a1a-febf-41038f06c2e6