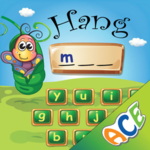 BridgingApps just published the following BridgingApps Reviewed App on the site:
Spelling Bug Hangman – Word Game for kids to learn spelling with phonics is a fun and interactive game of hangman. The app has 100 different levels of words and users can also create custom lists. This app is a fun way to get kids to practice their spelling words. Spelling Bug Hangman targets spelling, listening skills, problem solving and social skills when playing in the two player mode.
Play alone or with a friend. See if you can guess all the letters to spell the mystery word before the caterpillar chomps through the vine and makes the baby butterfly fall. Every time you guess correctly, the chrysalis will grow a little, but, watch out, every time you guess wrong the caterpillar will chomp on the vine! You are in luck though—you earn coins to buy clues that will help you free the butterfly.
Click on the link below for full review:
https://search.bridgingapps.org/apps/c03129f0-8dac-4345-af36-8d077ccbff98