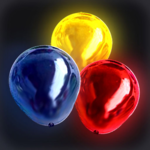 BridgingApps just published the following BridgingApps Reviewed App on the site:
BalloonMaker is an intuitive and fun app for users of all ages and abilities. Users enjoy seeing the balloons float around and filling up the page with the colored balloons.
Teachers and therapists can get creative on how to make this app productive. Developing fine motor, turn taking, counting, one-to-one correspondence, color identification and following simple directions are a few ways we have used the app with our students.
Click on the link below for full review:
https://search.bridgingapps.org/apps/380fc3fc-c54c-7451-a3ba-d3ae507263a7