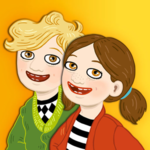 BridgingApps just published the following BridgingApps Reviewed App on the site:
TwinGo London, by Gobrilla AB, was developed as a fun and simple way to learn about geography and the historical sites of London. Using game-based learning (GBL), TwinGo's characters, elementary-school aged twins Theo and Alicia, guide the player through the streets of London and the secret adventures therein. Along for the journey are Ozzy, a pet mouse with an insatiable appetite!, and Livia Belivia, a wise-old owl who espouses knowledge about everything-London. TwinGo is the first in a series of travel-related games that encourage inquisitiveness and exploration, while promoting global-learning and cultural diversity.
TwinGo is appropriate for nearly all age-ranges (4 years old and up) and is a child-friendly application. The developer of TwinGo is committed to providing safe and fun learning apps for children of all ages and abilities, and will hopefully be providing similar apps of other major cities in the future!
Click on the link below for full review:
https://search.bridgingapps.org/apps/ffba8c9c-585e-4d43-b645-72fb65ef9a5b