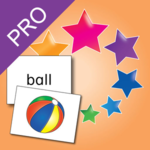 BridgingApps just published the following BridgingApps Reviewed App on the site:
Recently updated, Special Words Pro is a tried and tested app that transforms the lives of children with learning disabilities and additional needs. This app has 6 different activities to it and has a customizable feature, so it is a great app for children of all ages and levels. This app helps develop basic beginning reading skills to higher level sight word reading skills. Two of the activities specifically relate to speech and and language skills.
The Pro edition is ideal for educators, therapists, and parents wishing to do more with their child. It offers everything in the standard edition, plus:
+ Free access to our growing online library of curriculum-related content (requires registration)
+ Printable PDF assessment sheets for recording progress
+ Printing of cards (with words or images) for use in complementary paper-based activities
+ Dual control using external keyboards (to guide child through activities and adjust settings)
To compare editions, visit www.specialiapps.org/app/special-words.
Click on the link below for full review:
https://search.bridgingapps.org/apps/c69fd525-bc97-440c-ba41-78c4f46bdb4f
#Downsyndrome #DownsyndromeAwareness #DSA