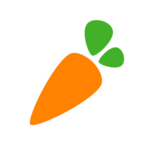 Instacart's new Senior Support Service is now available to help customers who are 60+ use online grocery delivery and stay safe during the pandemic.
Dedicated support specialists for seniors are available to assist senior customers with:
+ Setting up an Instacart account
+ Filling their virtual cart & placing their first order
+ Learning how to use key features like setting replacements & chatting with their shopper
+ Troubleshooting issues & questions about existing orders
If you think Instacart's Senior Support Service is something that can help you or a loved one, call the number below to get started. If you would like to learn more, visit the Help Center. Call the Senior Support Service @ 1-844-981-3433
Tap a button, get your groceries. With Instacart, you can shop online and get groceries delivered from stores in your neighborhood in as fast as 1 hour. Or you can choose to pick up your order at the store, where it'll be waiting for you. Just enter your zip code, choose a store, and add items to your cart then relax as someone handpicks your groceries and household items with care.
Click on the link below for full review:
https://search.bridgingapps.org/apps/5b384f07-fe3b-90b4-233d-a358350e648e

Read a personal Instacart Review by BridgingApps Guest Blogger Megan Fry here.