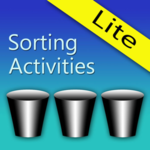 BridgingApps just published the following BridgingApps Reviewed App on the site:
Sorting Activities: Life Skills – Lite Version is a sorting app that helps young students practice their cognitive skills through categorization. The app is designed as a preview for the full version. The app contains one age appropriate sorting activity. The task for the student is to drag and drop the object into the appropriate container.
A nice feature of the app is that it keeps track of the users progress in the statistics section. Once the sorting has been completed, the app keeps track of the date and time that it was completed, as well as the number of incorrect placements. This is an excellent tool for a teacher or caregiver so that they track the progress of their student.
Sorting Activities: Life Skills – Lite Version is recommended for users who are working on categorization skills and users diagnosed with autism spectrum disorder, developmentally delayed, intellectual disorder and learning disability.
Click on the link below for full review:
https://search.bridgingapps.org/apps/cdba0212-fa79-0846-5354-5527019f27c0