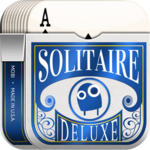 BridgingApps just published the following BridgingApps Reviewed App on the site:
Solitaire Deluxe® Social – Classic, Spider, more is a fun app for anyone who likes to play card games, particularly the game of Solitaire. The app is free to download and includes 16 different versions of Solitaire. Users can select the game they would like to play from the main menu. If the game has not been played before, the app will recognize this and offer the user a tutorial.
We used the app with high school students as well as adults and found it to be fun and engaging. Once we started playing it was hard to stop!
This app is recommended for older adults and users who are working on visual/spatial and planning skills.
Click on the link below for full review:
https://search.bridgingapps.org/apps/222991bd-9879-49ab-9907-763a0b84d39e