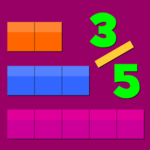 BridgingApps just published the following BridgingApps Reviewed App on the site:
Thinking Blocks Fractions is a math resource app that allows users to practice solving fraction problems through a series of interactive steps. The app is free to download and includes seven sets of word problems for the user to solve. Each set has five different problems. The app walks the user through each problem and provides detailed instructions along the way.
A nice feature of Thinking Blocks Fractions is that the app walks you through each problem if you get it incorrect. It gives the user a feedback section at the bottom of the problem that allows them to see it broken down into easy to understand steps. The app also keeps track of the users' progress through all seven of the sets.
Click on the link below for full review:
https://search.bridgingapps.org/apps/e522c1c5-ccae-3211-43a4-c55bcdc08ff2