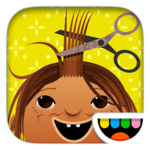 BridgingApps just published the following BridgingApps Featured App on the site:
Toca Hair Salon is a fun, self-paced app that gives early learners the opportunity to cut and style hair on people and animals. The child can cut, shave, color, wash and dry the hair. There are accessories to place in the hair also.
Toca Hair Salon is useful in teaching children to follow directions. It can also be used to teach quality adjectives, such as long and short, and color words. Verbs like cut, comb, wash and dry and understanding of use of tools can be taught as well. There is no language within the app, so all verbalizations must be given by the teacher, parent, therapist or child that is playing.
As with all Toca Boca apps, there are no high scores, time limits or stressful music. We love that kids can play it however they want.
Click on the link below for full review:
https://search.bridgingapps.org/apps/11896b53-ad43-c361-93bf-903443a6f23a