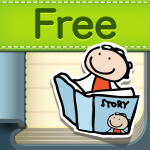 BridgingApps just published the following BridgingApps Featured App on the site:
Create your own holiday story with Kid in Story Book Maker Free: Create and Share Personalized Photo Storybooks. Helpful and unique, this app is great for making personalized social stories and is designed specifically for children who benefit from visual narratives. The app comes with a variety of social story templates and you can add your own. What sets this app apart from the other social stories apps is the ability to add a photo of your child into the provided scenes.
By involving the child in making the social story, the child receives an in-depth social skills session and then the book can be sent to the child's parent or caregiver via email or Dropbox for ongoing reinforcement of the skills. We found the ability to customize the story by placing the child's photo into the scene to be highly motivating and engaging for all users.
Click on the link below for full review:
https://search.bridgingapps.org/apps/8cfcedb2-a311-191e-c6d7-fe8292408219