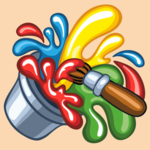 BridgingApps just published the following BridgingApps Reviewed App on the site:
Joyful Color Book is a simple coloring app that comes in many languages. Children choose from Halloween pictures or Fairytale pictures. There are in-app purchases for transportation color sheets, animals color sheets, instruments, Christmas, and numbers. To purchase all coloring books it is $3.99. To purchase each coloring book individually the cost is .99 cents.
We enjoyed the calming music that is plays as you color the picture. We also like how the app helps you to color close to the lines without going over. This is helpful and encouraging to children who are meticulous and can get frustrated with their work when they make a "mistake". However, with that said you can still color "outside" the lines, the app just supports you if you are "trying" to stay within them.
We suggest this app as a centers activity in an Early Childhood setting. Or, as a reward for a child who enjoys coloring but has trouble grasping a crayon or marker.
Click on the link below for full review:
https://insignio.bridgingapps.org/apps/05effb16-19ff-4baa-8908-b8136de13651