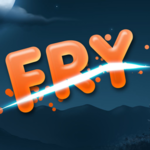 BridgingApps just published the following BridgingApps Reviewed App on the site:
Fry Words Ninja Reading Game is a standards-aligned educational app that helps teach students "Fry Words". The Fry Word List is the most common words used in English, ranked in order of frequency. Within the app, words can be used from easy, medium to hard based upon the individual child.
The app is very easy to use with the goal being for kids to identify Fry Words on their level by tapping the word. The "ninja" part of the app is that the word is sliced exactly where the child taps the word. It is a fun way for kids to review the most common words and to help them with their functional reading skills.
Click on the link below for full review:
https://search.bridgingapps.org/apps/83063d00-b1d5-4c76-b276-2182c585be0e