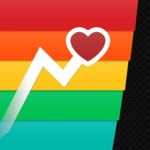 BridgingApps just published the following BridgingApps Reviewed App on the site:
Digifit iCardio GPS, Run, Walk, Bike and Exercise Heart Rate Calorie Monitor and Health Fitbit Tracker will transform your workout experience. Whether running, walking, hiking, cycling or any of the 50 different activities listed within the app is your thing, Digifit iCardio will help you stay active and focused by tracking your weight, duration, distance, pace, speed, beats per minute (BPM), calories and calories per minute (CPM).
BridgingApps finds Digifit iCardio a very useful tool to encourage and engage individuals, especially those with health issues and disabilities, in physical activity.
Click on the link below for full review:
https://search.bridgingapps.org/apps/d11498ff-a0b6-49ac-8680-644715568353