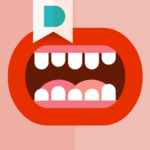 Duckie Deck's With Teeth is a wonderful app for preschoolers, promoting personal hygiene and independent life skills. This app uses colorful, engaging graphics along with a simple touch-screen interface, appealing to even the youngest users.
With Teeth allows users to create their own personal 'smile' by selecting various teeth, fangs and tusks that go into a cartoon mouth. Users simply 'feed' their mouth by dragging and dropping various food-items into the mouth. After munching, the teeth appear dirty, ready for a thorough brushing. Using isolated finger control, users swipe the toothbrush across the teeth, making sure to scrub all parts of the teeth until they are clean.
This app can be used as an introduction to oral hygiene or used as a platform to discuss what happens in the dentist office. Those users with sensory issues will appreciate the virtual environment to practice brushing without the invasiveness of performing on their own mouth. Duckie Deck With Teeth can be played independently or with other users, promoting turn-taking and joint attention.
Click on the link below for full review:
[iframe id="https://www.youtube.com/embed/fDJVCQQvx5A?rel=0&controls=0&showinfo=0″]