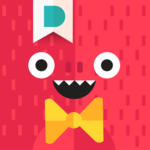 Duckie Deck Monsters is a fun and engaging early learning app designed to help users overcome their fear of the dark.
The easy-to-use app hosts a variety of colorful, friendly 'monsters', that initially appear in silhouette as darkened shapes. The background music begins as ominous, with the shadowed image 'looming' on the screen. Users tap the light bulb 'on', changing the music to cheerful, and illuminating a happy smiling monster-friend.
This app requires the use of purposeful touch and knowledge of the concepts on/off. Users that have sensory issues will find this app helpful, especially for those that have difficulty with object recognition or visually discriminating objects under poor lighting.
This app is particularly useful for those struggling with cognitive schemas like object permanence and representational thought. Caregivers can help to make the connection between what is on the screen (the silhouettes are actually friendly monsters) to what is in the bedroom (the chair during the day is also still a chair at night, even if it looks different in the dark).
This app is appropriate for all ages and can be played independently young children. And, like all Duckie Deck products, is designed to be 'kid safe' with no in-app purchases or advertising.

Click on the link below for full review:
[iframe id="https://www.youtube.com/embed/ugJmXWaxpRY?rel=0&controls=0&showinfo=0″]