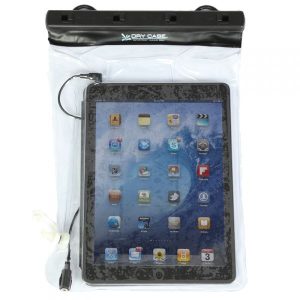 The DryCASE Waterproof Tablet Case is designed to create a watertight vacuum seal. With the DryCASE Tablet Case, you can take your tablet with you everywhere you go without ever having to worry about it getting wet. A built-in three-way headphone jack lets you use both stereo headphones and a microphone to listen to music or watch a movie.
Simply slip your tablet or e-reader inside the DryCASE and lock the clasps. Position it how you would like to use it in the case, then use the vacuum hand pump (included) to remove the desired amount of air. Remove all of the air so that the case is flush against your device screen for touchscreen access. When you purchase the DryCASE Tablet Case you will also receive a small hand pump, neoprene armband, and a lanyard.
This is a great option for someone using a tablet around the water or outside where it is exposed to weather elements such as rain or snow. Â We love that the DryCASE comes with a lanyard so you can wear the device around your neck, making it easy to transport.
This item can be purchase from DryCASE or Amazon.
$59.99 USD
[iframe id="https://www.youtube.com/embed/Y_3aDHvUObc" align="left" autoplay="no"]