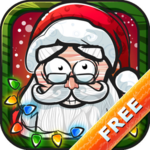 BridgingApps just published the following BridgingApps Reviewed App on the site:
Doodle Bomb Holiday Edition is a fun, entertaining app for users of all ages and abilities. Grab a photo or take one, then add hilarious graphics, text bubbles and more. Take a picture of a friend and turn them into an elf on a shelf. Shoot a picture of your friend drooling over the turkey and scribble on his dribble. This crazy holiday app lets users tap their creative side and make outrageous images to share with friends and family.
Doodle Bomb Holiday Edition can also be used to increase use of holiday vocabulary and names of friends and family members.
Click on the link below for full review:
https://insignio.bridgingapps.org/apps/3d625286-fe6a-656a-d7d9-2977eb03a623