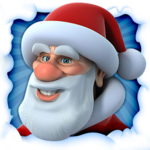 BridgingApps just published the following BridgingApps Reviewed App on the site:
Talking Santa arrives just in time for Christmas! Tis the season to enjoy talking to Santa and hearing him repeat what you said. The app is great for all ages and no matter who uses the app, you are sure to hear quite a few giggles along the way.
Interact with Santa by giving him milk and cookies, but be aware that his friend "Tom the Talking Cat" may come by and take Santa's glass of milk. If you would like to see a giant snowball run over Santa press the snowball icon at the bottom of the screen. There is also Santa's bag of presents. Tap the present icon and see what Santa may be giving you this year for Christmas. Rub Santa's belly and hear him hum away. There is also an option to send your friends a postcard using the postcard icon on the bottom.
Click on the link below for full review:
https://insignio.bridgingapps.org/apps/e2630513-3963-a7f7-ff8b-bcb7842837d1