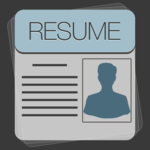 BridgingApps just published the following BridgingApps Reviewed App on the site:
Build your professional formatted resume using Easy Resume Builder. The resume is prepared just by adding the appropriate information in the fields. The app provides users with the ability to make multiple profiles to prepare a resume and generate the resume in the PDF format with paging. Easy to use and learn with a beautiful and simple user interface.
Easy Resume Builder is great to use with students who are transitioning from high school to the adult world. For teens needing experience and guidance writing their resume in a simple format, the app allows them the key components.
Click on the link below for full review:
https://search.bridgingapps.org/apps/5a97fd6a-0c91-4397-b6e3-fe2251943211