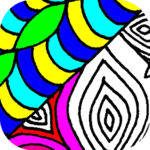 BridgingApps just published the following BridgingApps Reviewed App on the site:
Coloring Advanced Free Tangles is an introduction to the new movement of Zentangles. An artist who uses the Zentangle concept designed this app. It is a great app for users of all ages and abilities.
Zentangles are a way for individuals to calm their brain and relax, similar to yoga. It is considered an artistic meditation used to "increase focus and creativity, provide artistic satisfaction along with an increased sense of personal well-being."
The Coloring Advanced app gives you four pre-designed tangles to color. It is simple to use. Enlarge the areas you want to color using the + button. The sun button will allow you to clear your work. If you like to paint, draw, or color mandalas, you are going to love coloring tangles. These patterns look awesome when colored in, even if your are a tangle beginner. Relax and enjoy!
Click on the link below for full review:
https://insignio.bridgingapps.org/apps/e51e0314-e4e1-4116-ace9-78fe2f1cd5cf