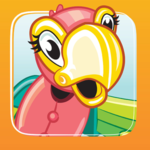 BridgingApps just published the following BridgingApps Reviewed App on the site:
Bam Bamboomerang is an animated app that helps early learners practice both listening and speaking. The app aligns with Kindergarten ELA Standards and can also be used with older kids with learning disabilities who are struggling with making certain sounds.
The app is based on the "Open Reading" philosophy; phonics based and emphasizes accurate phonetic instruction, vocabulary building, problem solving, and comprehension. Bam Boomerang gets children reading out loud and gives them the effective, one-on-one feedback they need to practice basic literacy skills.
Click on the link below for full review:
https://insignio.bridgingapps.org/apps/95948e2d-e45c-475a-946d-05a20a330912