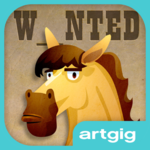 BridgingApps just published the following BridgingApps Reviewed App on the site:
Mystery Word Town – Sight Word Spelling is a fun, interactive western-theme game that uses early spelling skills to find gold and capture outlaws. This app aligns with K – 3rd grade ELA Standards and is great with general education, ELL, and students diagnosed with developmental delays, ADD, ASD and dyslexia.
The high quality graphics and entertaining activities engage ALL learners as they develop language, reading, thinking and reasoning skills in an environment of fun and exploration. The app offers reading games in a variety of western scenes. Users can play word lists customized by teachers or they can record their own words. We love this feature! There are three skill levels and two game modes to provide a highly customizable and flexible learning experience for a range of ages and abilities. Optional audio hints speak the words from the selected word list and visual hints provide scaffolding for difficult words.
We highly recommend Mystery Word Town for early readers and feel that it is an excellent value.
App features that appeal to students with special needs:
Self-paced play
Highly engaging graphics and storyline for extended play
Ability to adapt skill level
Ability to turn off music to eliminate sensory distraction
Audio and visual hints
Click on the link below for full review:
https://insignio.bridgingapps.org/apps/6a117b15-eb22-4265-95dd-cdd2c1009f37