Read Time: 2 Minutes
What are the best mental health apps? In our work with people with disabilities and veterans, we have been asked this seemingly simple question often. As with any "best app" question, we typically reply with questions of our own focused on the person's skills, goals and device type they are using. Though we have reviewed many apps that clients have used to support mental health, how someone chooses an app is an extremely personal choice and a complex process involving many more variables than our questions above.
BridgingApps' goal is to help our community shortcut the searching process by having lists of vetted and reviewed apps from which to make an informed choice – a menu of options. In assessing apps to support mental health, we have been looking for a framework to evaluate the qualities and claims of the 10,000+ apps targeting mental health conditions in today's app stores. Eureka! We found that framework in the extraordinary work of Dr. John Torous and his team at Beth Israel Deaconess Medical Center, a Harvard Medical School-affiliated teaching hospital.
As Director of Digital Psychiatry, Dr. Torous asserts that mental health apps can be helpful tools and offer a range of possibilities from monitoring specific symptoms, therapy-inspired exercises, stress relief and more, but it's important to be cautious about which app you use. Using the American Psychiatric Association's (APA) app evaluation framework as a foundation, Dr. Torous developed a rating system of 105 features that evaluators use to rate an app. This information is crowdsourced and uploaded into the app tool for users to then browse and become familiar with information that will help them make more informed decisions about choosing an app that is right for them and their unique situation.
These apps are stored in the mHealth Index and Navigation Database MIND, which is comprised of more than 220 apps and growing. We invite you to explore this rich trove of information to see which app might best match your needs.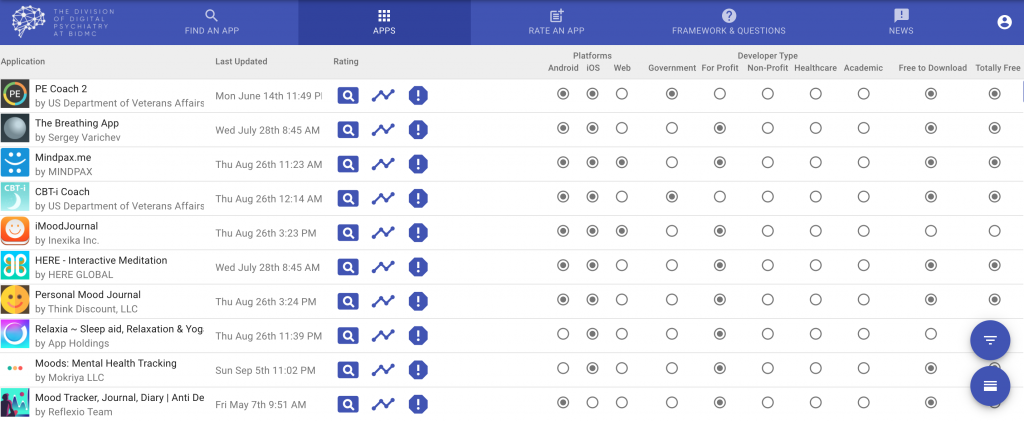 BridgingApps is pleased to partner with Dr. Torous and his team to integrate these vetted and rated apps into the BridgingApps' App Search Tool and share the information as widely as possible.