*GIVEAWAY CLOSED*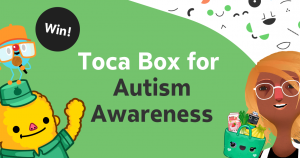 In honor of Autism Awareness Month, BridgingApps and Toca Boca are teaming up to give away three Autism Bundles that include four BridgingApps Toca Boca Favorites!
Toca Store
Toca Hair Salon
Toca Town
Toca Band
Here's how to enter:Â 
Step 1: Visit our BridgingApps Facebook Giveaway Page between April 3 and April 6, 2017.
Step 2: Scroll down to the Rafflecopter box and enter.
It's that easy! We would love to have you 'like' our BridgingApps Facebook Page while you are visiting.
The Toca Boca App Bundle Givewaway brings you 4 apps that kids of all abilities love, specially chosen because they can be great tools for kids on the autism spectrum. With these apps, kids (along with a peer, parent, caregiver, teacher or therapist) can have fun practicing:
o Social interaction
o Oral language
o Turn taking
o Pretend play
o Reading facial expressions
o Creative expression
Giveaway Dates:
o Start date: 4-3-17
o End date: 4-6-17
o Announcement date for 3 winners: 4-7-17 at 12 pm CST
In addition to the giveaway, EVERYONE will have the opportunity to purchase the Toca Box for Autism Awareness for $5.99. FOUR BridgingApps favorite Toca Boca apps for the price of TWO will be available to purchase from March 30 – May 31, 2017.