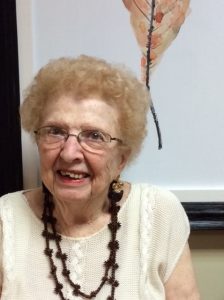 Joan, a 95 year old resident at University Place Adult Living Community, is becoming technology savvy. Joan has learned basic technology skills like how to create a new email, reply to an email, send a text message and related skills.
With only a flip phone in hand, Joan initially came to us with a desire to send a picture to her sister in another state. After several tries, Joan successfully sent a picture to her sister. She progressed from there and is now sending multi-person text messages via Messages and multi-person emails.
After receiving an iPad from a family member in another state, Joan began learning how to transfer her skills to the iPad. She learned how to take, save, attach pictures on her device and more.
Joan's sister has since passed away, but she continues coming by to get refreshers on how to do things and to learn new skills. Her enthusiasm, laughter, and positive attitude continue to carry her through learning and adapting to life's changes.
BridgingApps is grateful to the Consumer Technology Association Foundation and TIRR Memorial Hermann Hospital for the opportunity to work with older adults and seniors in our community.
Check out more resources for Seniors here: http://bridgingapps.org/seniors/resources-for-seniors/
BridgingApps has recently updated its list of Apps for Seniors and Older Adults, so be sure to check it out and share!