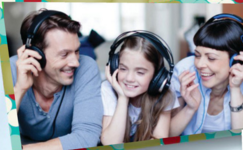 In our November/December 2015 Parenting Special Needs Magazine article we share some of our fun tips on how you can harness the power of technology to promote togetherness and enjoyment this holiday season.
Gifting technology to a child during the holidays can be a terribly exciting experience. However, being chastised by well meaning relatives or friends about "too much screen" time can suck the joy right out of this thrilling time. Technology is woven into our everyday lives, and and as parents, we have been bombarded by advice on a healthy balance of screen time in terms of quantity, such as limiting screen time or that kids today get too much screen time.
At BridgingApps we focus less on technology in terms of quantity, but on quality – that is, how we use technology with our children who have special needs. If used effectively and intentionally, we have found that it can be a fabulous tool for inclusion, engagement, creativity and sharing.
Music is the perfect way to bring people together during the holidays, whether it is cooking together, guiding a playdate with friends, or simply enjoying downtime together. Using music-specific mobile device apps can turn screen time into a holiday sing along or dance party creating priceless family memories. Let the sharing begin!
YouTube
By Google, Inc.
Free (iTunes, Google Play)



Viewing Christmas songs on the YouTube app is a fun way to get everyone in the holiday spirit. Many feature a sing along version with words captioned at the bottom and animations to engage family members of all ages. We always recommend an adult be present to monitor children while using the YouTube app.





Here are six easy steps to create a customized holiday playlist using the YouTube app:

Within the YouTube app, search "christmas music kids", "holiday music kids" or keywords of your choice.

Tap and play a desired video.

Click the + sign at top right on screen.

Tap "Add to Playlist".

Tap "Create New Playlist".

Name the Playlist.

Once your playlist is created you can add more holiday music videos by following steps 1-4 and then simply tap the name of the playlist you want to add it to.


Pandora – Free Music & Radio
By Pandora Media, Inc.
Free (iTunes, Google Play)



Pandora is a radio app that can be used to create personalized audio stations for listening to your family's holiday favorites anytime anywhere. So, whether you are gathered around the Christmas tree or traveling, your family can enjoy





Follow the three simple steps below to create a holiday radio station

Within the app simply tap the + sign on the top left of your screen.

Type "Christmas" or "Holiday". Pandora will generate a list of suggested artists.

Choose a favorite and enjoy your station.

CanTunes
by University of Victoria
Free (iTunes)

We love CanTunes, as it provides a simplified way for children to select and play music on an iPad. It allows individuals with cognitive and/or developmental delays to play music

independently

without the complexities of typical play, stop, pause, and shuffle buttons on regular music operating devices like a CD player or boombox. It has been used with children with cognitive disabilities, fine motor challenges and low vision. CanTunes promotes independence, builds confidence and reduces the need for constant adult or caregiver monitoring.


CanTunes plays the music that is already on your iPad. So, once you have downloaded your favorite holiday music to your iPad and installed CanTunes, you can easily choose an album to play by simply tapping on the album cover.