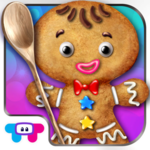 BridgingApps just published the following BridgingApps Reviewed App on the site:
The Gingerbread Crazy Chef – Cookie Maker app is a fun creative way for children to make gingerbread cookies without the mess in the kitchen. The app can be played for free but some of the decorations and accessories will be unavailable. To unlock all the faces, clothes, and decorations and remove ads, the app will cost $5.99.
For younger children, this is a good app to work on comprehension of directions and to work on naming the shapes, colors and decorations of cookies. For an older child, this app is able to be used for receptive listening skills as well as help with learning the sequencing of events.
Click on the link below for full review:
https://insignio.bridgingapps.org/apps/d55d4998-68d4-9826-0c1a-9a2e55f5b2e4