Written by Tricia McKenzie, OTR/L | StartDOT Author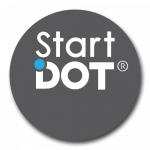 As Autism Awareness Month comes to a close, we are delighted to share the success story of Sean. Sean is in the 1st grade and diagnosed with autism spectrum disorder (ASD). Like many children with ASD, Sean is a strong visual learner. Meaning, one of the ways he learns best is using methods that are primarily visual. That's StartDOT. Each letter and number has pictures and a story vs. inanimate black dots that guide the child's hand through the formations. Children easily visualize these images so the new information makes more sense. It reminds me of the book title "Thinking in Pictures" by Temple Grandin, who has provided the world with amazing education and insight from her personal perspective of autism.
I knew after the first time I saw Sean for occupational therapy in September 2015, he would fly with this approach. And, sure enough he did. Now he can do all of the writing in school himself like taking spelling tests, which he excels at! I can't tell you how wonderful it's been to be a part of Sean's team and help him make this huge jump. I never knew all of those pictures I drew on a piece of paper 20 years ago for Jeremy would still be helpful today. Jeremy needed a way that made sense to help him become successful with handwriting just like Sean. Helping children is my passion. I hope StartDOT will help yours.
[iframe id="https://www.youtube.com/embed/EI6l-eofuI0″]