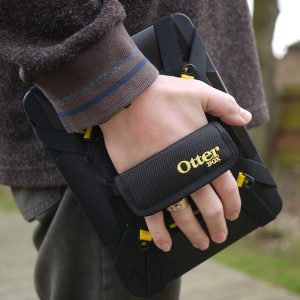 Get a comfortable grip on your tablet with the rotating Utility Series Latch II 10-inch tablet carrying case
The Otterbox Latch System is a great way to keep your device on hand while you work. It allows the user to attach the iPad to a variety of different places. This accessory can be used with or without a case, but we have heard that it is best used with the Defender Case. Â The original latch system works with the Apple iPad, Apple iPad 2 and Motorola XOOM.
The Utility Latch II is designed to be used with the Defender Series and the straps will adjust to fit perfect over the case.  It will accommodate most 10 inch tablets, including the Samsung Note Pro 12.2, iPad Air, and others.   For the With a little adjustment to the straps the Utility Latch II will also fit the iPad Mini.  There is also a version of the Latch II for 7″ and 8″ tablets.
We have heard from several people about how much they love this carrying system. Â "This is the greatest tool ever- you can attach it to your thigh, slide a hand into a slot and secure it for use with your other hand."
Price Ranges from $21.99 to USD $49.99 depending on the model and the accessory kit.
All items can be purchase at Amazon.