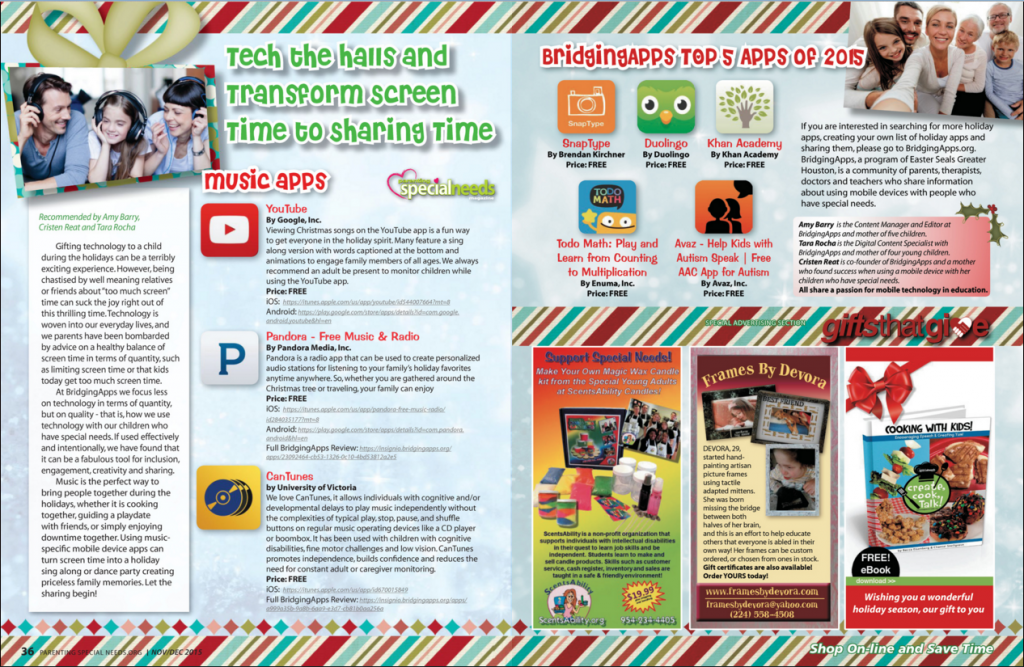 Gifting technology to a child during the holidays can be a terribly exciting experience. However, being chastised by well meaning relatives or friends about "too much screen" time can suck the joy right out of this thrilling time. Technology is woven into our everyday lives, and and as parents, we have been bombarded by advice on a healthy balance of screen time in terms of quantity, such as limiting screen time or that kids today get too much screen time.
At BridgingApps we focus less on technology in terms of quantity, but on quality – that is, how we use technology with our children who have special needs. If used effectively and intentionally, we have found that it can be a fabulous tool for inclusion, engagement, creativity and sharing.
That is why we would like to share some of our fun tips on how you can harness the power of technology to promote togetherness and enjoyment this holiday season that keep the Grinches at bay. Check out our article in the latest issue of Parenting Special Needs Magazine featuring creative ideas to enjoy holiday music, holiday app list for all ages, and our favorite apps from the year 2015. Be sure to subscribe to the free digital magazine.