Written By Amy Harkins
Reading Time: 2 Minutes
Veterans are not a monolith. They possess a variety of talents and skills and needs after the epic storm that crashed and stalled over Houston in August of 2017.  Hurricane Harvey was a call to action and many Veterans responded valiantly putting themselves in harm's way once again to assist their own families, their neighbors and the community at-large. 
They borrowed John boats and utilized high clearance vehicles, expertly jimmying equipment for high water rescue. They guided the confused and grief stricken with clear and simple instructions to pack a survival bag and abandon things that could not be transported to higher ground. They stood up distribution warehouses and procured supplies from a generous nation and efficiently and effectively pushed water bottles, diapers, and sanitation supplies to where they were needed most in this flooded city. They rendered physical and psychological first aid with compassionate and comforting expertise. They applied training, insisted on teamwork, established chains of command and networked with over-saturated emergency response systems. They warned us of the various toxic exposures in water-born illnesses, insects carrying diseases and predicted the rapid growth of mold between brick and sheet rock. When they faced obstacles, they engaged in creative problem solving to invent new ways to overcome.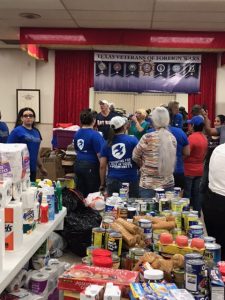 Technology assisted them. Facebook and Instagram, walked talkie apps, even Pinterest crowdsourced ideas and speed help around a city that knew we had to help ourselves, just as we knew we depended upon each other for our literal survival. Websites were born that matched people who needed help mucking and gutting with volunteers ready to get to work clearing a path to recovery. As mountains of debris piled on curbsides, rotting in the blazing sun, the next phase of the disaster began. Once the urgency subsided, and the adrenaline supply was exhausted, aspects of community-wide post-traumatic stress became evident.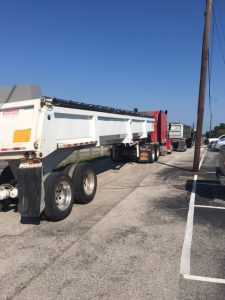 And our Veterans suffered from familiar foes of fatigue and survivor's guilt, hyper vigilance and insomnia, nightmares and relationship turmoil, numbness and self-neglect. They were triggered by the ever-present helicopter traffic that reminded them of the sounds of war. They were triggered by cramped sleeping quarters in large rooms filled with cots and chaos.  As the immediate aftermath of the disaster waxed, Veterans of the Storm named Harvey eventually went home to their own personal disasters, that were very real whether or not their own houses were damaged by the slowly receding muddy waters that had engulfed the city. 
We owe a debt of thanks to the heroes who walk among us in civilian dress. Veterans hide in plain sight but still carry the weight of duty and profound responsibility to serve and protect this nation. We owe them more than simple gratitude.
As we enter this hurricane season, let us honor the immense contribution of our veterans by being as prepared as we can be for the unexpected. Below is a list of apps created by the BridgingApps team with contributions from veterans, mental health professionals, and families.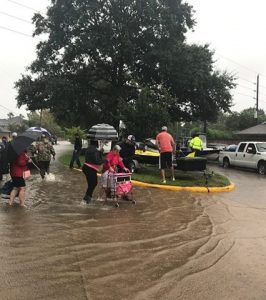 Emergency Planning and Disaster Preparedness List:
https://search.bridgingapps.org/lists/64658233-715c-4e9f-8440-79a1fc748ec1?page=NaN&query=emergency
Amy Harkins is a licensed psychologist with the Mental Health Program at Easter Seals Greater Houston.