Earlier this year while attending the Texas Computer Education Association Conference in Austin, Texas, we met Bruce Bloom, who works as a Vocational Consultant. Bruce assists adults with disabilities–as well as students with disabilities, who are nearing transition age out of public school–find jobs. He shared with us his idea for creating a mobile app that will help individuals with disabilities be more successful in their jobs.
Currently in the development phase, the Reminder App will potentially have a positive impact on the job productivity and lives of many clients who need different levels of support on the job. We sat down with Bruce and his team at Lampos Solutions to find out more about their app ideas, what inspires them, and goals for assisting young adults with disabilities find success in the workplace.

Bruce Bloom, Krishna Trivedi, Santosh Surve, Sol Jerome
BA: What kind of work do you do?
LS: We are a partnership that specializes in different disciplines. We've come together to merge our ideas to help others as much as we can. Our backgrounds include vocational rehabilitation counseling, job placement, mentorship, software development, infrastructure management, and project management. These diverse backgrounds have come together to deliver an effective series of products for our clients.
BA: Tell us a little about the challenges your clients face.
LS: The long-term success rate for people with disabilities in obtaining and maintaining competitive employment is extremely low. Simple job requirements, such as the ability to independently return from a break on time, can be a barrier to competitive employment. State/Federally funded supported employment programs are often short-term or too underfunded to allow support staff to remain on a job site for entire shifts for the life of a client's job. At the same time, while employers want to be supportive of people with disabilities, they cannot always shoulder the responsibility of providing prompts or doing a lot of follow up with our clients. This leaves an unfortunate gap that has left many people with disabilities out of the job market.
BA: How do you think technology like mobile devices can assist with this problem?
LS: In the current paradigm, one "assistive figure" (i.e. Job Coach) monitors one client at any given time. We are now able to leverage Lampos Solutions' apps to multiply the number of clients any assistive figure can monitor and allow the support system to more effectively manage resources and time.
Additionally, many app-based products are accessible to people with differing capabilities. We've had many clients that could not perform their own ADLs (Activities of Daily Living) independently, but could surf the web, play app-based video games, or pull up YouTube videos. Lampos Solutions is creating a set of apps that would empower these individuals to be independent on the job site, while at the same time, allow their support system to remotely monitor them on their work site. This allows the support staff the flexibility to focus on urgent issues more effectively, saving time and money.
BA: How did you come up with the idea for an app?
LS: All of us have the deep-rooted desire to help people with disabilities. The idea for the first app started simply with a sketch discussed over lunch: something simple that would allow people with disabilities to return from breaks on time.
However, what we have developed goes beyond a simple timer app. Through team collaboration, we are creating a set of apps that could significantly increase an individual's ability to be independent on a job. We are in the process of creating apps that would allow individuals to return from break on time, self monitor their day; but more than that, we are tying these apps to a website that will allow their support system (what we are terming the 'assistive figure') to follow up with their clients/family members long term.
BA: What is the goal of the app?
LS: We at Lampos Solutions are creating simple, easy-to-use, and inexpensive apps that would allow people with disabilities to be more successful in their jobs. Many of these apps will have applications outside of the job site and increase the independence of people with disabilities
BA: Who is the app appropriate for? What kind of user do you envision may benefit from these apps?
LS: The initial intention was to create apps that would assist people with developmental disabilities to maintain long-term competitive employment. However, many of the apps will be useful for individuals outside of this population. For example, there are many individuals with memory issues (people with dementia/Alzheimer's) who need technology to assist them in remaining independent and would benefit from long term remote monitoring.
BA: How does the app work? What are the main features?
LS: We are working on beta versions of a timer app that will remind individuals when to return from break or lunch and a self monitoring app that will allow the individual to rate their work day. The functionality will change based on customer feedback. Simultaneously, we are working on a full suite of tools for assistive figures so they can monitor their clients and intervene when necessary. We are planning to release our first set of apps in the 2nd quarter of this year.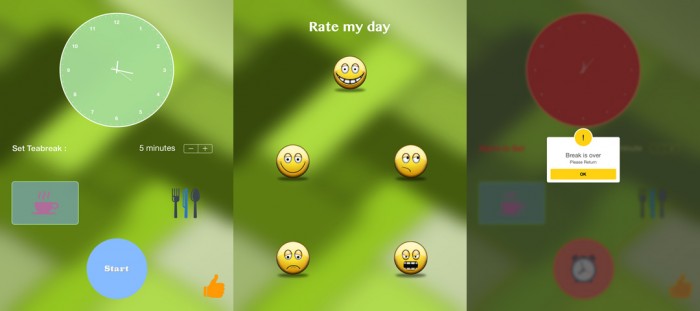 BA: How will you measure success with the app and how can the disability community help?
LS: The success of the apps will be measured by the success of our customers. Employment has a therapeutic effect; people who work are statistically happier than those who do not. If we can achieve our goal of drastically reducing the unemployment rate of people with disabilities, we will consider our endeavor a success. A corollary to that is our goal to make agencies that assist people with disabilities more efficient.
The disability community can help in two ways. First would be to recommend Lampos Solutions' apps to their family, friends, and clients. The second way that the community can assist us is through providing feedback. Currently we are recruiting beta testers to help us test our apps. Please check out www.lampossolutions.com for more information about our beta program.