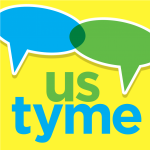 BridgingApps just published the following BridgingApps Reviewed App on the site:
Ustyme is an interactive video call app for users of all ages and abilities. Two users, connected online and by video, can read or play games together. The app gives family and friends the opportunity to meaningfully engage and build deeper connections.
What a great way to interact with relatives that may live far away or even a parent who may be out of town. This fun and innovative app allows kids to interact by storytelling and playing games while using social skills and learning at the same time.
Click on the link below for full review:
https://search.bridgingapps.org/apps/1b82b453-dcc2-3878-5ba3-9ebebe098001