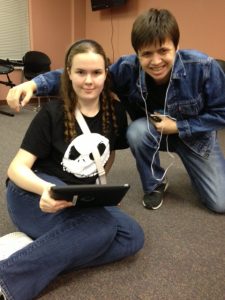 Easter Seals Greater Houston offers an extensive respite program where kids have fun in a safe environment while parents get a break. Â One of these respite programs that meets in Katy, Texas is for a group of teenagers 12-21 years, most of whom have high functioning Autism or Asperger's.
Respite Coordinator Kelly Kaleta was looking for a way to engage the teens and work on social skills during their Friday nights together. She decided to try integrating technology into the program to engage the teens with each other. With the help of BridgingApps,  Kelly began using iPads with the goal of targeting social skills when the kids all got together.
After using iPads and specific apps designed with social skills in mind for just four weeks, Kelly and the teens have had great success as a group and individually. Â "They love using the iPads and seem much more eager to work together, rather than isolating themselves with their own technology." Kelly states. "They are excited about seeing each other each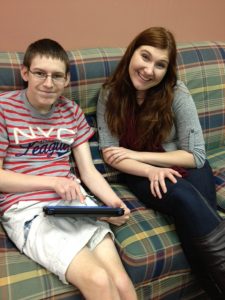 week and more eager to 'pair up' and get working with the iPads."
A few teens seem to be improving in their social skills by initiating conversations and playing games, even without the iPad as a common-ground for interaction. These same teens also seem better at interpreting the social needs of their peers, which is a fantastic improvement.  They seem to have a better sense of when their peers are ready to interact, how they want to converse, and when others may simply need to be left alone.
"One client in particular has difficulty with making eye-contact.  With the help of apps SocialExpress and My Horse she has shown significant improvement in making eye contact.  Another client has  trouble with identifying emotions.  He has been using apps like ABA Flashcards and Electric Station showing great strides in accurately recognizing others facial expressions and body language" says Kelly.
For more information on the Easter Seals Greater Houston Respite Program, please contact Linda Latimer and Kelly Kaleta by clicking on the link below:
http://www.eastersealshouston.org/Children/family-day-out.html