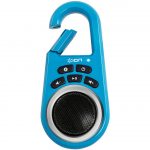 Paired with a mobile device, the ION Clipster Ultra-Portable Bluetooth Speaker with Built-In Clip is a hipster way to magnify sound. Easy to use, extremely portable and loud, the Clipster is a must-have technology gadget for individuals who use their mobile device for speech communication.
We featured the inspiring story of 14-year old Schuyler on our blog. She uses her iPad Mini as her assistive speech technology device. Its cool factor is one of her favorite features because it makes her feel like all the other teens on a tablet. The only drawback is that the iPad Mini sound projection is often not sufficient in loud environments. The Clipster is the perfect solution. Schuyler's dad, Robert Rummel-Hudson, shared Schuyler's experience and a personal review of the Clipster on the Support for Special Needs Blog.
Designed to wirelessly stream music, Clipster works with iPad, iPhone, iPod, Android® devices, Kindle Fire HD®, or any other Bluetooth® music player. Its large volume controls make it easy to adjust the volume at any time, and the rechargeable battery gives you hours of listening on a single charge. The device easily clips to your belt loop, backpack, or purse. And, the Clipster is available in a variety of trendy colors.
$19.99 USD
The Ion Clipster can be purchased from Amazon.
[youtube id="gAyPTsTF7Z4″]
[youtube id="S1qi91OaLWQ"]