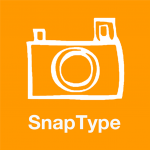 The newly updated SnapType and SnapType Plus are easy to use, intuitive apps allowing completion of worksheets using the camera on an iPad to create an image and type answers on it. These apps greatly assist students who have handwriting difficulties, learning disabilities, low vision, low muscle tone and Parkinson's.
Using the iPad camera, a picture is captured of a worksheet or form and then loaded into the application. The user is then able to type an answer directly on the worksheet using the iPad keyboard. Within the app, font can be enlarged and images can be resized by simply pinching with two fingers. Tapping and dragging can move textboxes. Work can then be saved to the camera roll and either emailed or printed. It is easy to begin again by flipping over the iPad for two seconds.
New and improved features in version 2.0:
1. Import images from your device.
2. Email and print from directly within the app.
3. Crop images.
4. Rotate images.
5. Work in landscape mode.
6. Choose between multiple text colors.
7. Store and work on more than one document at a time.
8. Convert images to black and white for better printing.
9. Share your creations as an image or PDF.
10. Share your creations as a SnapType document, which allows others to open and edit them on their devices.
The Pro version of SnapType has all of the features of the original SnapType plus the following:
-Store unlimited worksheets within the app
-Draw lines on worksheets
-Whiteboard Filter – Turn colored worksheets into black and white to save ink when printing.
-Colored Backgrounds – Some users with impaired vision may find it difficult to read traditional worksheets with black text on a white background. Now you can change the background to a variety of colors for better contrast and easier reading.
We trialed SnapType with an 8-year old who is receiving school-based occupational therapy due to visual motor and visual perceptual issues. The biggest complaint from teachers about handwriting for this student was related to illegible answers on worksheets. The student quickly learned to take images of the worksheets using her iPad, upload them to the device and type in her answers. In addition to making her writing legible and eliminating issues with visual perceptual skills, the child's interest in the task was greatly improved, as was her pride in her work.
Some pros of the app are:
• Extremely fast and easy to use for young, inexperienced or cognitively challenged users
• Few tools available that can be confusing
• Requires few steps to complete the task
• Text boxes are easily created and deleted for the user
• Workflow to Photo Album for printing or sharing
Adaptation Possibilities:
• Worksheets could be modified to user ability level using pictures, multiple choice or word banks to copy from or providing simplified vocabulary
• If answer choices are offered, X's or voice recognition capabilities can be used to complete the worksheet
• Instructional support can be provided to take the picture, create text boxes prior to completion, perform the screenshot or shared using AirDrop capabilities
Click on the link below for full review of SnapType:
https://search.bridgingapps.org/apps/10cf7317-f5cc-4cc3-99ea-bb2eb6b7ef3b
Click on the link below for full review of SnapType Plus:
https://search.bridgingapps.org/apps/85bbebd9-c534-4009-a214-90ead132d18a
Learn more about SnapType and SnapType Plus at http://www.snaptypeapp.com/.