The "Favorite 5" BridgingApps series showcases items mentioned in our recent article "Consumer Technology, Assistive Technology, and the Latest in Electronic Tech." (For the full "Favorite 5" list, see the last section of the Consumer Technology article: "BridgingApps Picks for the Best New Consumer Technologies.")
Ask most people over 65 about their pet peeves, and the list will probably include, "Being treated as forgetful/incompetent/delusional just because my hair is gray." While it's true that over 10 percent of Americans in that age group have some level of dementia, that's still a minority, and "they're all like that" assumptions are as inexcusable as with any other demographic.
Acknowledging this does not mean downplaying the struggles of those who do have dementia—nor the stress on their loved ones and caregivers, especially when concerns over dementia symptoms are met with angry defensiveness. Such reactions are not necessarily further proof of declining mental abilities. As with most cases of disability or illness, people fear having dementia suspicions confirmed—fear being treated with condescension, becoming helplessly dependent on others, losing their unique identities.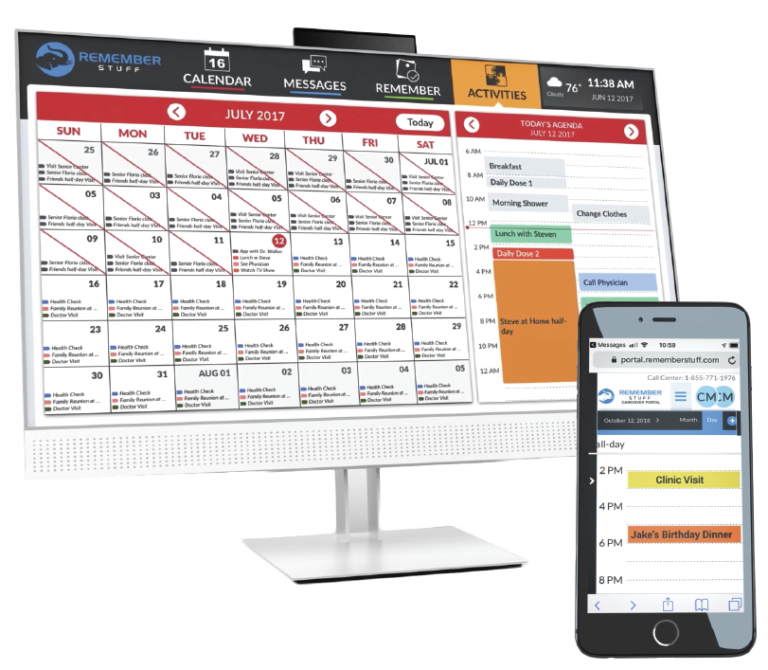 While there is no guaranteed defense against dementia, risk is lower in people with good physical health habits, active social relationships, and brain-exercising hobbies—all of which can also reduce damage from existing dementia. One helpful technology is RememberStuff, a new digital platform loaded with games, learning opportunities, and health-monitoring aids. It also provides a virtual connection to loved ones, making it easy to help someone keep their calendar in order—or to offer them a listening ear and a word of encouragement. (See "Who Is RememberStuff For?" to access a detailed list of features.)
Created by two sisters-in-law with over 30 years of shared caregiving experience, RememberStuff is designed to help people with mild to medium-level dementia retain personal control of their lives. Besides being easy to use and supporting personal dignity, the platform reduces stress on family caregivers by keeping everyone up to date on when help is needed—and when all is well.
To learn more or get started, visit RememberStuff's Get a Quote page. The website also provides a portal page for caregivers.
See also: My House of Memories app review, and our list of apps recommended for caregivers.