Reading Time: 3 minutes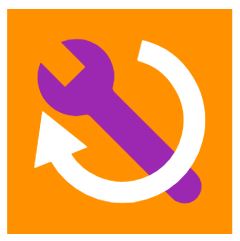 What is Cognitopia?
Cognitopia is a suite of accessible apps for self-management and executive functioning that help people with cognitive disabilities be more independent while helping caregivers provide better support. It was designed by a team of professionals with experience in AT and working with those who have cognitive and developmental disabilities. Their goal is to help solve everyday problems in order to improve the quality of life for all individuals.
The Routines App
Previously, we began exploring the Cognitopia suite of apps in Cognitopia: Part 1 with an in-depth look at the "My Life" app.  Now we are going to talk about the importance of routines for individuals with cognitive disabilities.  If you are a parent or an educator of a child or children with this type of need, you know how much they rely on the predictability of daily routines.  Having an organized, step-by-step (task-analyzed) explanation of how to perform daily tasks can provide independence and a feeling of self-control to these individuals.  Although a small child generally doesn't mind having to be talked through tasks step-by-step, that same child is likely not going to want anyone to do that for them when they are a teenager, young adult, or older adult.  Teaching children independence early can give them a greater feeling of control and more confidence about their abilities to manage their daily lives as they age.
Cognitopia's Routines App provides a way for you to guide the individual through a task even when you are not actually there to do it. The routines can be customized using vocabulary appropriate for the individual's cognitive level. Keep reading to find out how to make the Routines app work for your loved one.
How to Add Routines
Routines can be added from the community and are organized nicely. There are several categories to choose from and you can add your own to keep everything in order as you create more. The process for adding a new routine is as follows:
Open "Routines" app

Answer the question, "What kind of thing would you like to do?" by choosing "community", "personal", or "school"

After choosing a place for your task, answer the question, "What would you like to do at ___________?"  You will have a choice of browsing from the community of routines added by other users, adding a new routine, or choosing basic routines such as riding the bus, balancing a checkbook, grocery shopping, etc. 

Choosing "From Community" seems the easiest at first rather than trying to create your own.  It contains many useful pre-loaded common routines that you can edit to fit your needs.

After choosing the routine, you can "favorite" it to save it or click on "edit a copy" and make it fit your needs.

Move tasks around or add new ones if you want.  When you are happy with it click, "finish routine" at the bottom and it will be added. 
Below is an example of what a routine looks like. This one is for grocery shopping. It is available in the community for you to edit as you like.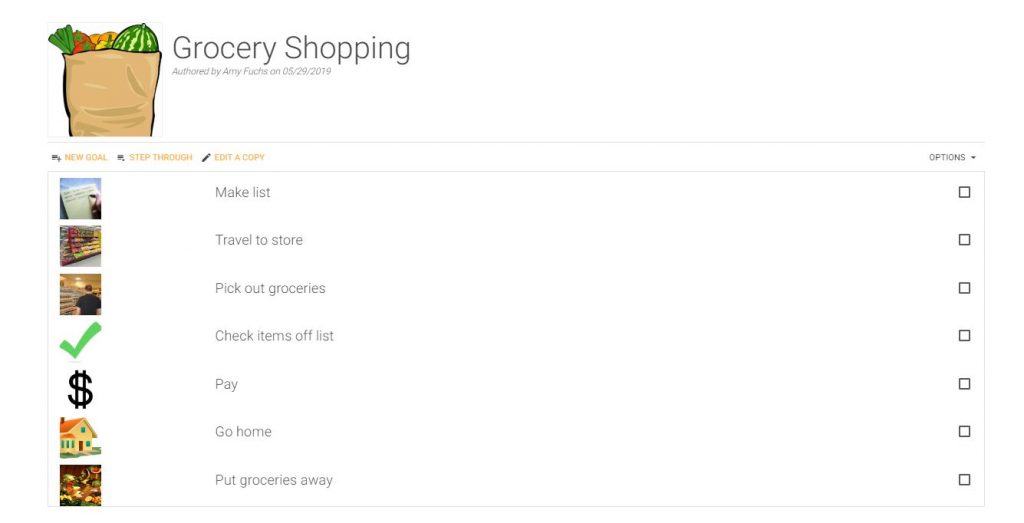 Each routine can be downloaded as a PDF and printed if a mobile device is not readily available for the individual. The PDF form has convenient check boxes after each activity for the person to mark when completed. If this routine will be used repeatedly, the PDF could be laminated or put in a plastic sleeve and marked with a dry erase marker for each use rather than printed each day.
For more information about adding routines, check out this great video from the creators of Cognitopia.
The routines that you save and create can be added to goals with days that the routine needs to be completed, repeating on designated days and times if necessary, and can even have a reminder set when it's time to complete the routine. Stay tuned for Cognitopia: Part 3, where will explore the Goal Guide app!