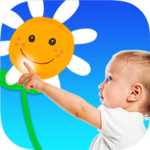 BridgingApps just published the following BridgingApps Reviewed App on the site:
ZOOLA Baby Touch – Musical Play Board for Babies is an easy to navigate introduction to vocabulary words important for babies and toddlers to understand and say. Featuring pictures by children's book illustrator Colleen Madden, ZOOLA Baby Touch – Musical Play Board for Babies divides words into five interactive environments (nature, animals, vehicles, at home and food).
This app was trialed with children with expressive and receptive language delays between the ages of one and two years. The SLP and parents introduced one category at a time and reviewed the vocabulary as the child was encouraged to touch the picture to start the animation. Parents labeled each picture for the child and encouraged the child to repeat to target their expressive language. When labeling the pictures, parents of older children with some nouns, also targeted verbs and adjectives when describing colors and actions of the pictures.
Click on the link below for full review:
https://insignio.bridgingapps.org/apps/c032fb12-7a89-15e9-4f37-6556f49817a0