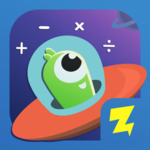 BridgingApps just published the following BridgingApps Reviewed App on the site:
Zap Zap Math – Games for Kids is an out of this world standards aligned math app. Enjoy free interactive math practices covering comprehensive subjects from kindergarten to grade 6 that focus on higher order thinking skills, problem solving, and self-paced adaptive learning. Students enjoy the fun and engaging space-theme activities while building. Parents and teachers like being able to track kids' individual performance via a Reports Dashboard, and being able to identify problem areas and recommend more targeted practice.
Zap Zap Math may benefit typically developing users as well as individuals diagnosed with ADD, dyscalculia, developmental delay, and autism.
Click on the link below for full review:
https://search.bridgingapps.org/apps/691456c0-32ec-4204-97cf-7b19475e045f